Parent Support
We are always keen to support parents who are facing difficulties, and we will certainly do all we can to help our pupils thrive while in school. If you are a parent with concerns about your daughter, we would encourage you to get in touch with her form tutor or her Head of Year:
Head of Sixth Form – Ms Christoforou
Deputy Head of Sixth Form – Mrs Mason-Clark
Head of Year 11 – Miss Vamplew
Head of Year 10 – Miss Insall
Head of Year 9 – Miss O'Callaghan
Head of Year 8 – Miss Tidd
Head of Year 7 – Mrs Costa
Our staff are always keen to support the pupils, and will often be able to offer your daughter the help she needs to overcome the challenges she is facing. In addition to this, the school has established strong partnerships with a number of wellbeing specialists who are able to offer support through workshops, mentoring and counselling. Sometimes they work directly with the youngsters, and sometimes they offer practical advice to their parents and carers, and to our staff.
Listed on this page are details of further support offered both locally and nationally, which you may also find helpful. We should advise you that we do not necessarily have direct experience of all these services, and we would welcome confidential feedback on how effective you find them to be.
General Advice and Support
Family Services Directory
The Hertfordshire County Council Family Services Directory offers information on a wide variety of services and activities for children, young people and their families. It can also act as a guide to sources of support for parents and carers of children and young people with disabilities or learning difficulties. Click here to visit the FSD website.
Hertfordshire Services For Young People
Hertfordshire County Council provides youth work projects, information, advice, guidance, work-related learning, and wider support for young people in Hertfordshire. This webpage covers, amongst other things, support with mental health, advice on careers guidance, and details of how to access organisations such as the Duke of Edinburgh Award and the National Citizen Service scheme.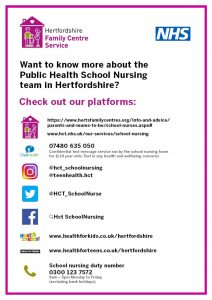 School Nurse in Hertfordshire
The school nursing service runs a confidential text messaging service for all secondary school pupils. They can use this to get advice on issues such as sexual health, emotional health, bullying, healthy eating and any general health concerns. The nurses can be texted Monday–Friday, 9am to 5pm, on 07480 635050.
Family Lives
Family Lives is a charity which aims to help parents and carers to achieve the best relationship possible with their children. They give support to over 1 million families every year. They provide professional, non-judgmental support and advice in a way that all members of the family can freely access. Call their 24 hour helpline number (0808 800 2222) or click here to visit their website.
Youth Talk
This is a confidential counselling service for young people aged 13-25 who live, work or receive education in the District of St Albans and Harpenden. They support young people concerned about: a lack of confidence; racism, sexism, bullying; family problems; loss and grief; feeling lonely, depressed or confused; food and weight; sex, drugs and alcohol. Click here for more information or call 01727 868684.
The Teen Brain
My Teen Brain is a Hertfordshire initiative offering general advice and guidance to the parents of teenagers. This blog from Rayden Solicitors also offers some useful hints on "Supporting Teens and Tweens".
Advice on psychological issues such as stress, anxiety, eating disorders or self-harming
Child and Adolescent Mental Health Services (CAMHS)
This service treats emotional and behavioural problems in children and adolescents. These include depression, anxiety, phobias, anorexia, schizophrenia, obsessive compulsive disorder, and behavioural problems such as extreme aggression at home and school, delinquency and attention deficit hyperactive disorder. Problems can present themselves in the form of self-harm, overdoses, truancy, school exclusion, or police involvement.
CAMHS offers services via the Child and Family Clinics throughout Hertfordshire as well as through the community-based Adolescent Outreach Service and the Primary Care Liaison Service. They also offer consultations, assessments and interventions to Looked after Children and their care networks. Call 0300 777 0707 or click here for more information.
NHS Mental Health Helpline
You can call use this service for yourself, your child, your parent or someone you care for. Click here for more information.
Kooth
XenZone is a provider of online mental health services for children, young people and adults. Kooth, from XenZone, is an online counselling and emotional well-being platform for children and young people, accessible through mobile, tablet and desktop. This offers free, safe and anonymous online support from Monday – Friday, 12pm – 10pm. There is an additional service specifically for young people on Saturdays and Sundays from 6pm – 10pm.
Papyrus
Papyrus is a national charity committed to supporting people who are feeling low, suffering in silence, afraid to speak openly, or find themselves contemplating self-harm or suicide. If you are concerned that a young person might be feeling this way, you can contact HOPELINEUK for confidential support and practical advice. Call: 0800 068 4141. Text: 07860039967. Email: pat@papyrus-uk.org. Opening hours: 9am – midnight every day of the year (Weekends and Bank Holidays included).
Shout
Shout 85258 is a free, confidential, 24/7 text messaging support service for anyone who is feeling anxious, stressed, depressed, suicidal or overwhelmed and who needs immediate support. Their trained Shout Volunteers are available all day and all night. To start a conversation, text the word 'SHOUT' to 85258.
Free Apps
Calm Harm, Catch it and Thrive are all free apps recommended by the NHS which help people to manage mental health challenges such as anxiety and self-harm.
Stay Alive
The Stay Alive app is a "pocket suicide prevention resource" for the UK, packed full of useful information to help people stay safe. It is designed to offer support for people who are having thoughts of suicide and also for those who are concerned about someone else who may be considering this. The app also includes a safety plan, customisable reasons for living, and a "life box" where you can store photos that are important to you.
Youth Connexions Centre
Young people who have emotional or psychological concerns can find lots of advice, help and signposting to other services by visiting these this website. All services listed on this site have been carefully vetted and have been approved by Youth Connexions. Alternatively, they can call 01442 454060, or use the drop-in service offered from 1-5 pm every weekday at this address: 41 Catherine Street, St Albans, AL3 5BN.
Catholic Children's Society
The CCS has a website dedicated to helping parents and carers to support children who have, or may be at risk of developing, mental health problems. ConnectEd is the name for CCS's early intervention mental health services, which include counselling and therapy delivered in schools across London and Hertfordshire as well as on-site at our Family Centre in Haringey (ConnectEd North). For more details, click here.
Young Minds
Free advice and support for parents worried about their children's behaviour, emotional problems and mental health. Click here.
National Centre for Eating Disorders
Personal, telephone or Skype counselling is on offer for people with anorexia, bulimia, binge and compulsive eating, body image issues, or intractable weight struggles. To find your local counsellor click here.
Self Harm
For some excellent practical guidance on how to talk to a teenager about self-harm, take a look at this: Talking to teens about self-harm.
Another excellent resource is Dr Pooky Knightsmith's very informative website containing "130 alternatives to self-harm". She has also shared these short films on self-harm, which parents may find helpful:
Advice on esafety (safe use of the internet)
We have compiled this information from the NSPCC and Childnet.Advice on drugs and alcohol
Frank
A free 24-hour confidential helpline offering parents and teens advice on drugs and alcohol: 0800 776600.
Alcohol Education Trust
General advice for parents on how to discuss issues surrounding alcohol with their children can be found here.
Adolescent Drug & Alcohol Service for Hertfordshire
The A-DASH team provides confidential advice, support and specialist treatment to young people who live in or attend a school in Hertfordshire and have drug or alcohol problems. For more details, telephone 01992 531917 or click here.
Rehab 4 Addiction
A website that offers guidance and support for people experiencing problems with substance misuse and co-occurring mental health problems. For more details click here.
Advice on bereavement
Grief Encounter helps families address difficult issues such as death, offering a flexible and accessible bereavement service which aims to professionally care and respond to the needs of each person they support. Call 020 8371 8455 during office hours or click here for more information. Alternatively, there is also Cruse Bereavement Care. Their helpline number is 0808 808 1677, and there website can be found here.
Advice on relationships
The Diocese of Westminster offers this advice on relationships.