GCSE & A level Results (2022 & 2023)
Summer 2022
In 2022, Loreto College was awarded a Progress 8 score of 0.83. In comparison the average for Hertfordshire was 0.17. This placed us in the top 3.4% of schools in the UK.
To view these results in detail, and compare Loreto to other schools, please click here.
The graphs below are available on this website and show how Loreto College performed compared to other schools.
Summer 2023
GCSE Results
Well over one third of grades were 7 or above.
110 grade 9s were achieved.
89% of GCSE grades achieved were at 4 or above.
84% of students were awarded 4+ in both English and maths.
95% of students obtained a grade four or higher in English.
53 students achieved the very top grades of 8 or 9 in Religious studies.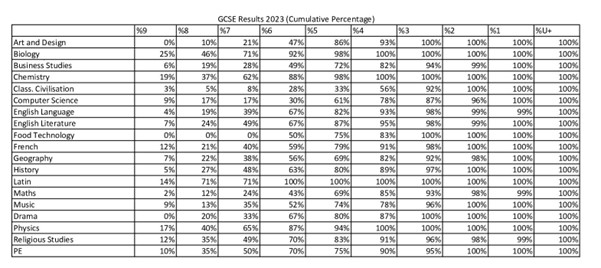 A Level Results
Students at Loreto have the opportunity to study for A levels, AQA's Extended Project Qualification (EPQ) and Level 3 BTEC qualifications. The results below include the grades achieved in all of these.
Over 50% of grades achieved were A*-B!
For our best departments, over 35% of grades were A* or A, including Religious Studies, History and Geography.
Our students were given the chance to take on AQA's Extended Project Qualification (EPQ), and well over half of these students were awarded A* or A grades. This looks great on personal statements and gives additional UCAS points.
Two thirds of our BTEC students achieved grades equivalent to A*- B, giving them access to excellent universities and other Higher Education options.